AmeriGEO Week 2021 highlights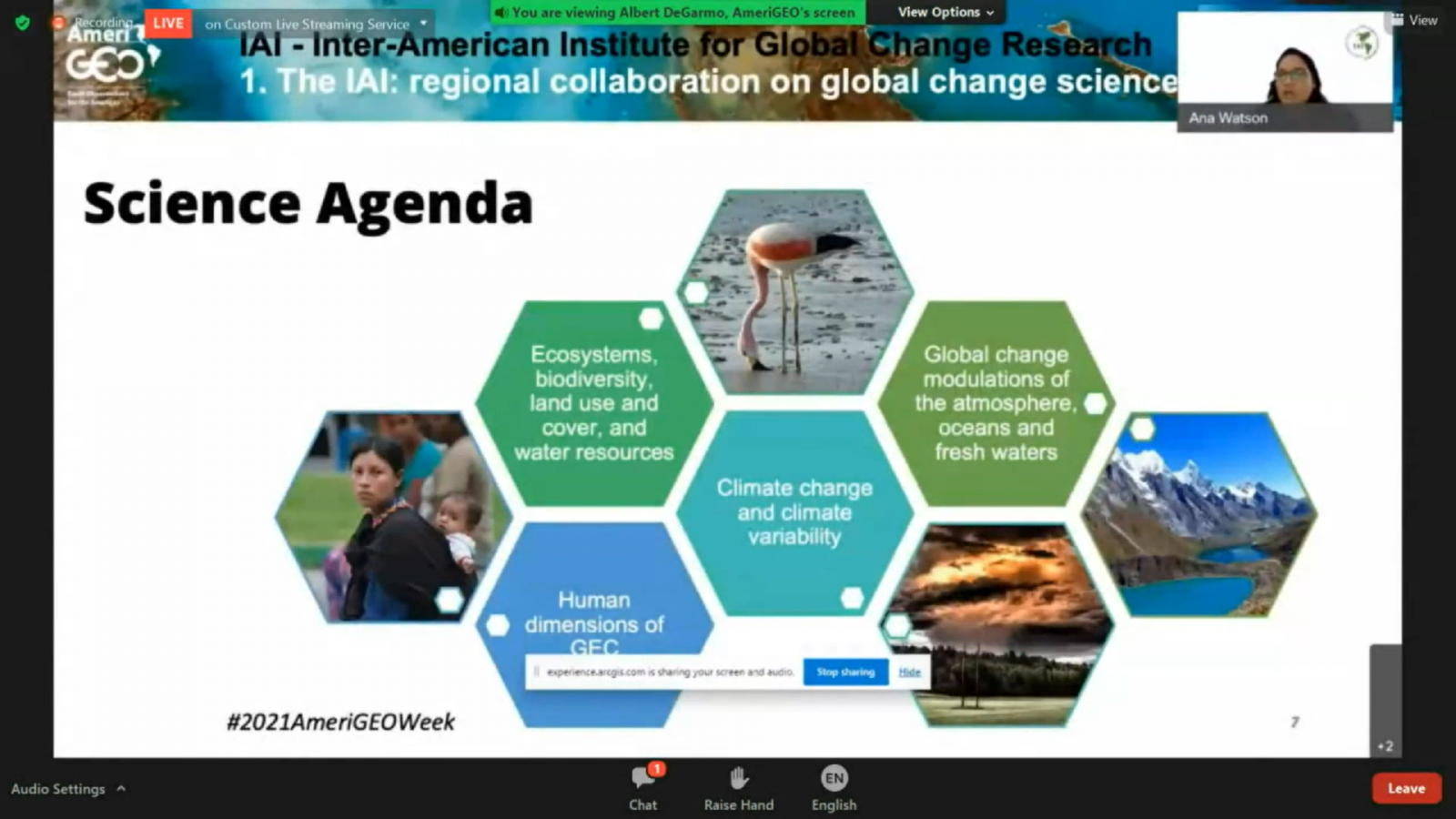 The IAI actively participated in AmeriGeo Week 2021 with two presentations in two sessions, Health and Disaster. On the one hand, emphasis was placed on the advantage of applying inter- and trans-disciplinarity (the IAI approach) to climate, environment and health issues in the region of the Americas, which have become priorities and much more relevant now given the context of the COVID-19 pandemic and the economic and social crisis that has come hand in hand with this emergency. On the other hand, it was emphasized how it has been achieved in practice, not only from theory, with the experiences of the projects of the Small Grants Program (SGP) and the STeP Fellows program, to mobilize scientific knowledge and, above all, to train new transforming agents that have a solid scientific basis. In particular, it is expected that IAI STeP Fellows will be able to play a future role as scientific advisors in the Latin American region, a challenge especially great given the lack of confidence in scientific information around the world. That is, the IAI has a crucial role to play in moving forward and confronting current crises, including at the intersection of health, climate and disasters.
The research team led by Liana Anderson of the project " Multi-Actor Adaptation Plan to cope with Forests under Increasing Risk of Extensive fires (SGP-HW 016)", which was granted funding from the Small Grants Program of the IAI, presented several scientific posters related to the use of MAP-Fire to monitor in near real time the fires in the western Amazon.
IAI's Science Technology Policy (STeP) Fellowship Program proposal to upscale and implement a regional malaria early warning system (MEWS)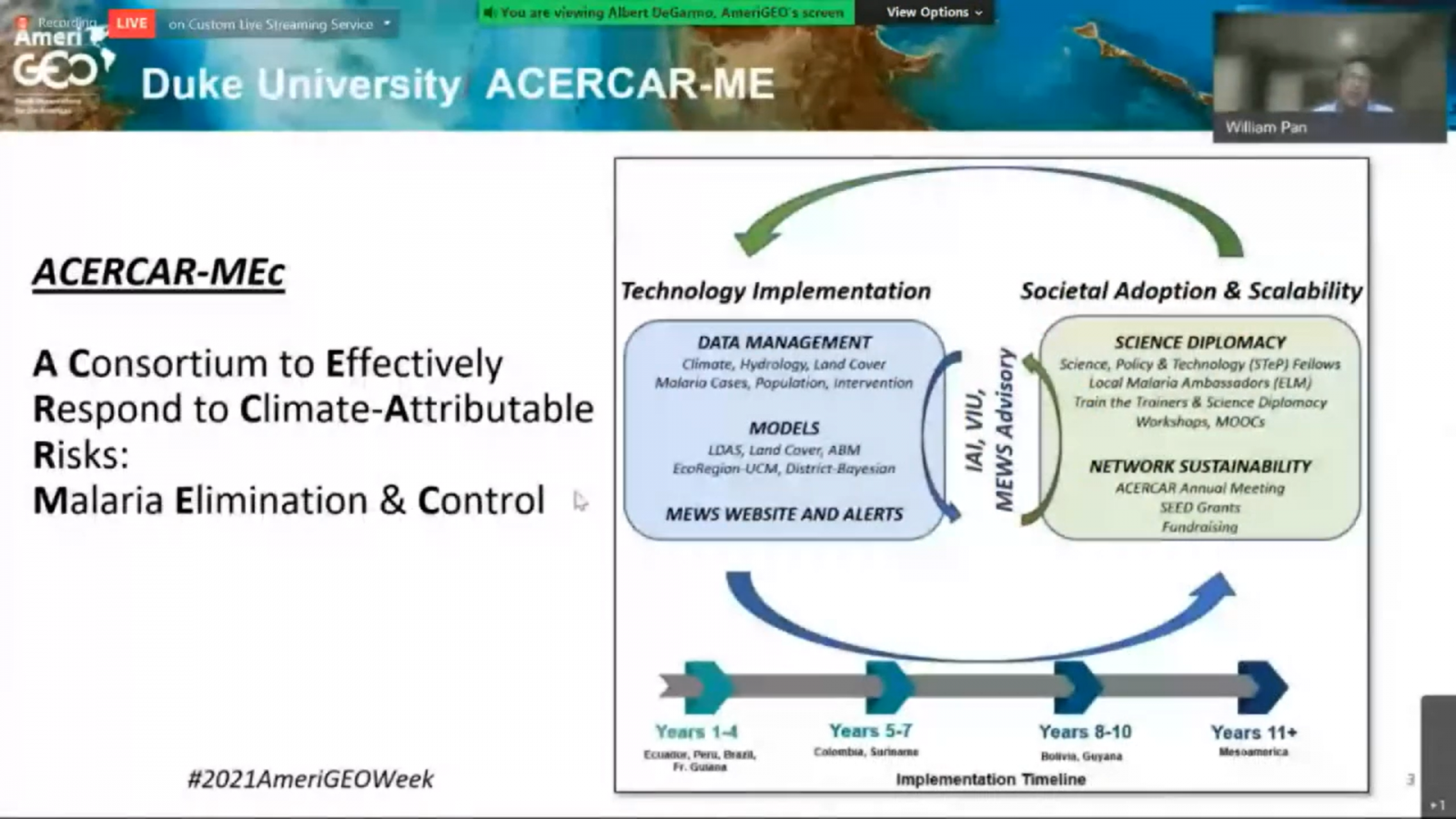 Cases of malaria have increased across South America in recent years, highlighting the need for novel tools to control disease transmission. In AmeriGEO week, Marcella Ohira, IAI's Deputy Executive Director, discussed the Science, Technology, Policy (STeP) Fellowship Program as an innovative strategy that could be used to upscale and adopt a regional malaria early warning system (MEWS). Bill Pan (Duke University) shared proposal to create a Consortium to Effectively Respond to Climate-Attributable Risks: Malaria Elimination (ACERCAR-ME), a program that uses earth observation technology validated in Peru, with 12-week forecast accuracy exceeding 90%.
With support from the IAI, the proposed societal implementation and adoption strategy to scale ACERCAR-ME in the region would employ a science diplomacy approach to establish a regional network of diverse stakeholders capable of responding to malaria and other complex climate-attributable risks. Using STeP Fellows to facilitate bi-directional communication between communities and regional/national malaria control programs, MEWs teams would gain a people-centric intervention strategy. STeP Fellows could serve as the bridge to a network of scientists, policymakers, community leaders, and health workers in this project and in any project that needs unique communication and leadership skills.
Enfrentar el desafío: La construcción de una red transdisciplinaria de investigación en clima, ambiente y salud en América Latina
Enlace al video: https://vimeo.com/591158593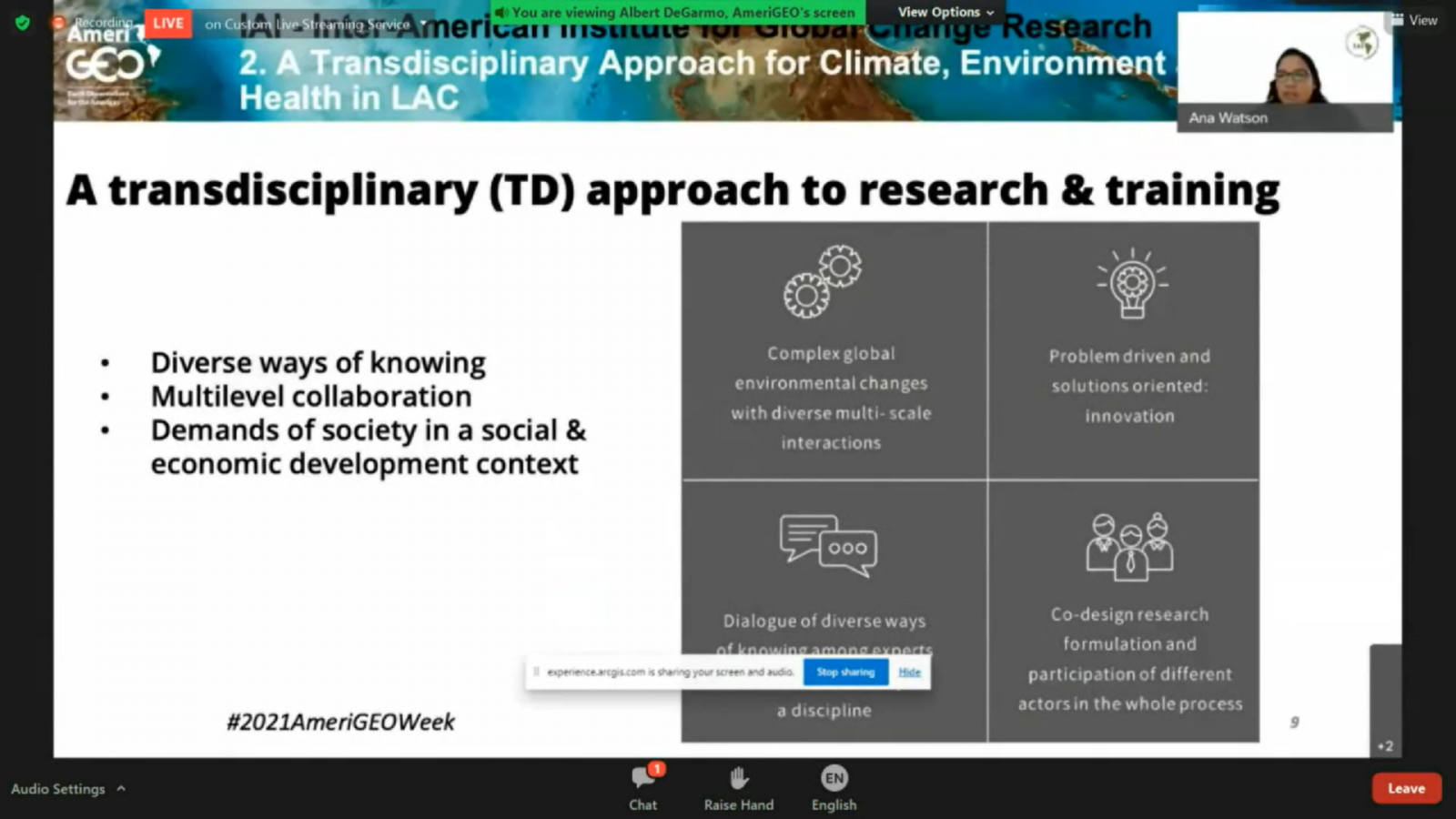 16:20 – 17:56 – Anna Stewart-Ibarra, Directora de Ciencia del IAI
17:56 – 21:16 – Ana Watson, IAI STeP Fellow
21:16 – 27:02 – Anna Stewart-Ibarra, Directora de Ciencia del IAI
STeP ampliará e implementará un sistema regional de alerta temprana de malaria.
Un consorcio para responder de manera efectiva a los riesgos atribuibles al clima: eliminación de malaria (ACERCAR-ME)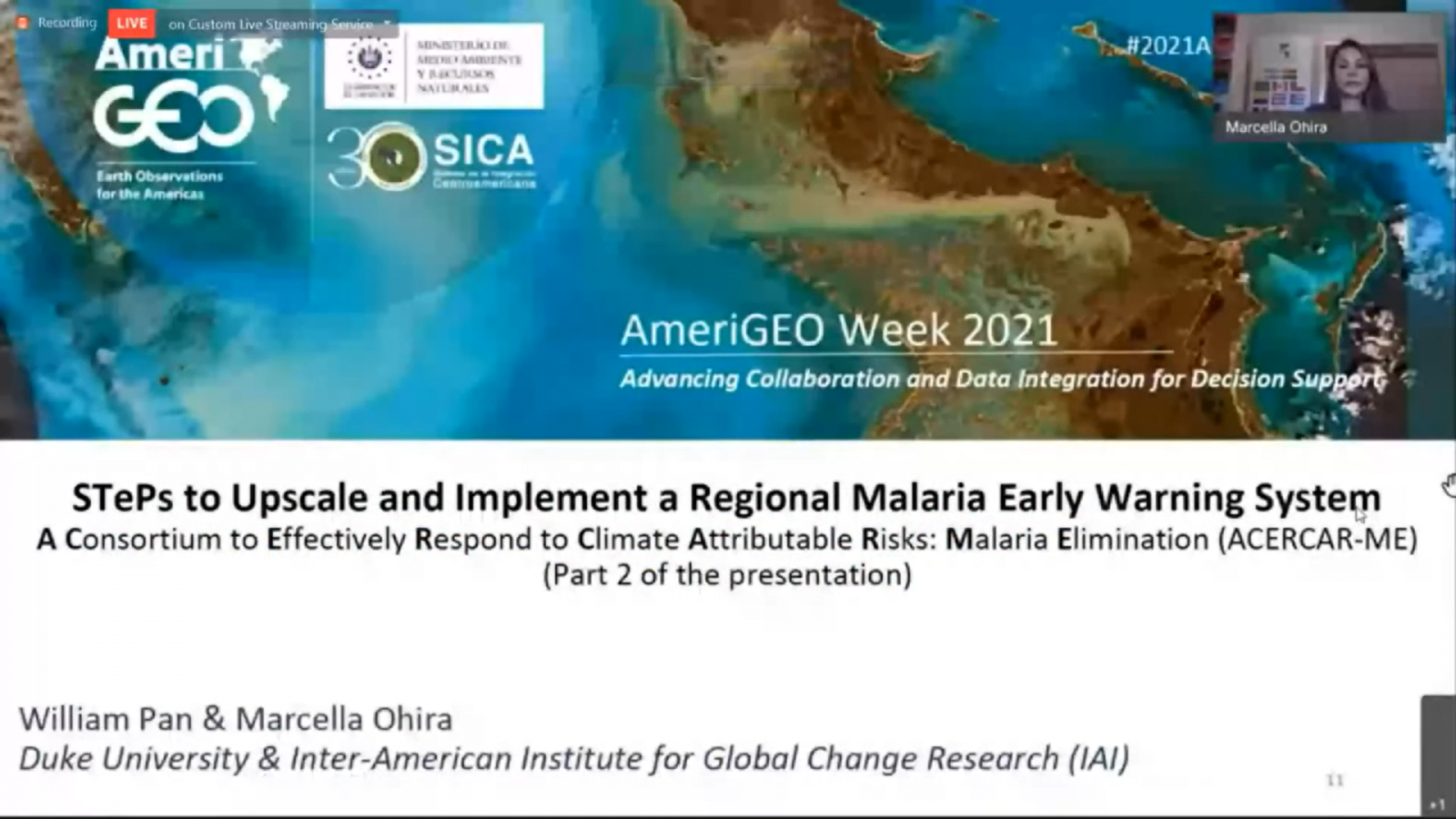 Enlace al video: https://vimeo.com/591158593
1:01:34 – 1:09:42 – William Pan, investigador de "LUCIA: Uso del suelo, clima e infecciones en la Amazonia Occidental", que recibió financiamiento del Programa de Pequeños Subsididos del IAI
1:09:58 – 1:17:08 – Marcella Ohira, Vicedirectora Ejecutiva y Directora de Desarrollo de Capacidades