Participation, pluralism, and biological diversity in the Americas: How to deliver science-policy outcomes for conservation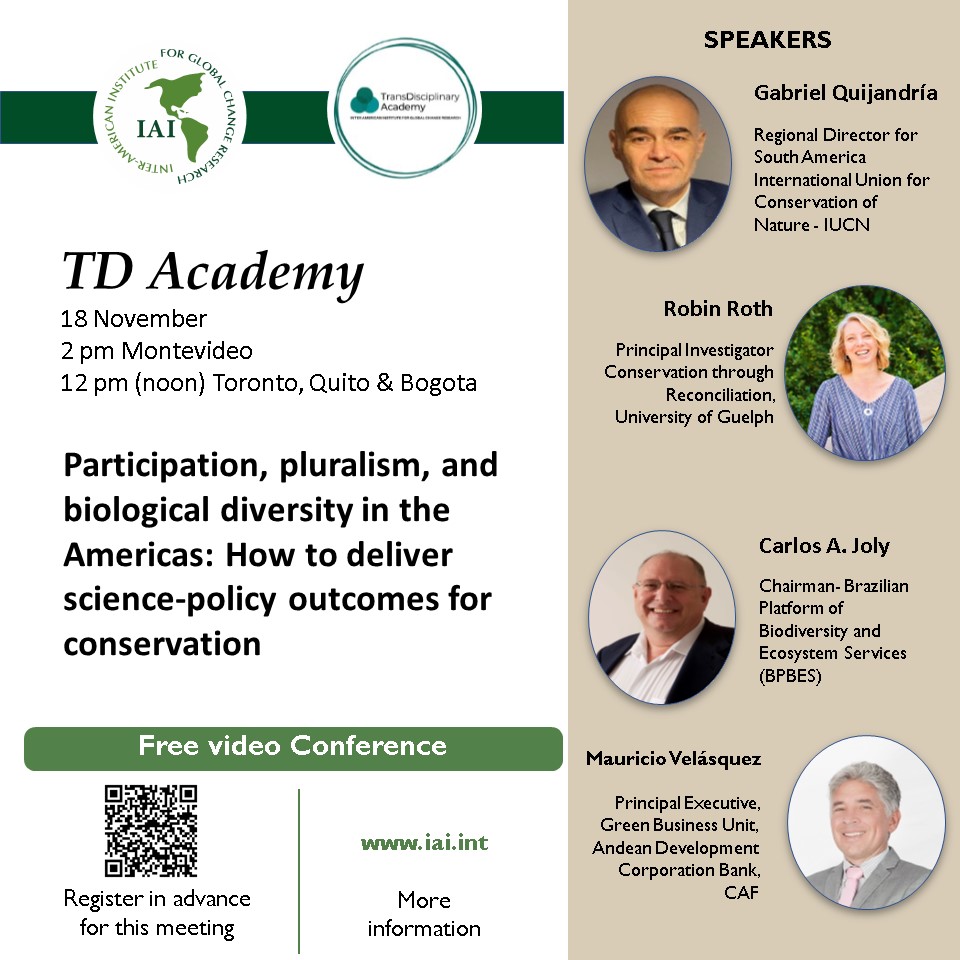 Agenda:
Welcome and introduction to the panelists (5 min)
Question 1: each panelist will have 5 min each (20 min)
Question 2: each panelist will have 5 min each (20 min)
Q&A from the audience (10 min)
Wrap-up and final comments (5 min)
Panelists:
Mr. Gabriel Quijandria
Regional Director for South America - IUCN
Gabriel Quijandría is an experienced professional in environmental and natural resource management, with 20 years of experience in the Latin American region. He is a Peruvian national, expert in the formulation, implementation and evaluation of environmental policies with an emphasis on climate change, sustainable development financing, and biodiversity conservation. He has extensive experience in fundraising activities with official bilateral and multilateral cooperation agencies and private foundations. He has been Minister of the Environment of Peru, Vice-Minister of Strategic Development of Natural Resources, Regional Director for Peru, Colombia and Ecuador of the Conservation Strategy Fund, Co-chair of the Green Climate Fund and Representative in Peru of The Nature Conservancy. He has also performed consulting services for the Sustainable Energy and Climate Change Unit of the Inter-American Development Bank, the AVINA Foundation, GIZ and the Costa Rican Tourism Institute. He is a member of the IUCN World Commission on Protected Areas. He holds a Bachelor's degree in Sociology from the University of the Republic of Uruguay and a Master's Degree in Natural Resource Management from INCAE Business School of Costa Rica.
Dr. Robin Roth
PI of Conservation through Reconciliation Partnership, Professor of Geography, University of Guelph
Dr. Roth is the Principal Investigator and co-lead of the Conservation through Reconciliation Partnership (CRP) in Canada. The CRP is a national scale partnership that brings together university-based researchers, Indigenous Peoples, government agencies and members of the conservation sector with the objective of supporting the establishment of Indigenous Protected and Conserved Areas and the transformation of existing protected areas to be better aligned with Indigenous knowledge systems, governance and law. Our collective efforts aim to employ the M'ikmaq concept of two-eyed seeing or the valuing of western science alongside Indigenous knowledge while using the strengths of both systems and the insight developed to address biodiversity loss. We seek to influence policy and practice through convening ethical spaces to foster greater mutual understanding, eliminate replication and collaborate to enact the change necessary to address biodiversity loss. She and her students have conducted ethical community-based research in Southeast Asia and Canada, assessing the livelihood and biodiversity outcomes of state-led conservation and supporting Indigenous conservation governance. She has published widely in academic journals including Biodiversity Conservation, for which she completed her term as Associate Editor in 2021. Dr. Roth also runs the Master in Conservation Leadership Program at the University of Guelph, where she is a Professor of Geography.
Prof. Carlos A. Joly
Capacity Building Task Force- Intergovernmental Platform on Biodiversity and Ecosystem Services (IPBES)
Chairman- Brazilian Platform of Biodiversity and Ecosystem Services (BPBES)

Prof. Joly is a Full Professor in Plant Ecology at the University of Campinas/UNICAMP and Member of the Brazilian Academy of Sciences. He graduated in Biology from the University of São Paulo, holds a Master in Plant Biology from UNICAMP, a PhD in Plant Ecophysiology from the University of St. Andrews, Scotland and a Post-Doc from the University of Bern, Switzerland. He published over 100 articles and 12 books, and supervised over 50 masters and doctoral theses. He is the main mentor of the BIOTA/FAPESP Program for which he has been awarded twice the Henry Ford Conservation Initiative Prize. Outside the University he has experience in the State and in the Federal Government, as well as in the Intergovernmental Platform on Biodiversity and Ecosystem Services/IPBES. He is currently the head of the Brazilian Platform of Biodiversity and Ecosystem Services (BPBES) and a member of the IPBES Task Force on Capacity Building.
Mr. Mauricio Velásquez
CAF - Andean Development Corporation Bank
Principal Executive, Green Business Unit
Mauricio has over 13 years of experience as Principal executive of the Directorate of Sustainability, Inclusion and Climate Change at CAF (Latin American Development Bank). He has been the head of the Strategic Program of Environmental and Social Management for financial institutions (PGASIF). Moreover, since 2015 Mauricio has been co-chair of the LATAM Task Force UNEPFI, and then, member of its Global Steering Committee and promoter of the Protocol of Sustainable Finances of the Banking of Ecuador. His career has a remarkable background in terms of sustainability and environment protection. He worked in the construction of the Galapagos National Park Management Plan 2004. He was Galapagos National Park's Coordinator of Research & Development Projects. Additionally, he was the Director of the Environment at the Municipality of Guayaquil for over four years and then, Sub-secretary of the Natural Capital Department at the Environment Ministry of Ecuador. He strongly believes on the necessity to create resilient and low carbon economies to improve the livelihood of the Latin American citizens. He holds a Master degree in Environmental and Forest Biology at SUNY (State University of New York).