Climate change and biodiversity in the tropical Andes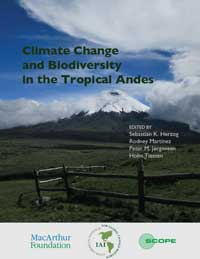 Sponsored by the John D. and Catherine T. MacArthur Foundation, the IAI has conducted a 2 year assessment of the interactions between climate change and biodiversity in the tropical Andes, and of the regional capacities to address issues of research, mitigation and adaptation. The resulting book, co-produced with the Scientific Committee on Problems of the Environment (SCOPE) is the first comprehensive state-of-the-art appraisal for the region.
The tropical Andes are probably richer in biodiversity than any comparable area on Earth: the interactions between the species that make up the diverse and wonderful array of ecosystems in the area must therefore be even more complex than they are elsewhere. The area's species are suffering from a devastating onslaught that is related to human population growth and its consequences, a major one of which, the subject of this impressive volume, is climate change. Changes in average temperature will be accompanied by large fluctuations and long-lasting changes in the distribution and amount of precipitation and the elevation of clouds in the region. This book presents the first ever synthesis of the biogeographical patterns as well as the first comprehensive assessment of how climate change is expected to affect tropical Andean biodiversity. The consequences of these factors for conservation planning and adaptation strategies are both timely and of fundamental importance. All those concerned about the biodiversity of the region and its future will find that this book contains a rich storehouse of material of great interest for them.
Download PDF (in English) (in Spanish)