Interdisciplinary Center for Responding to climate change and variability: science-policy and science-society linkages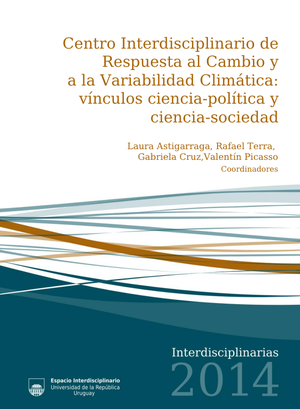 During the past forty years, mankind has witnessed unimaginable progress in all science disciplines. However, the effective contribution of such progress to policy making remains relatively low. The CRN 3106 is developing some of the dimensions presented in the book, and facing the challenges posed by providing science information for informed policy.
This book is the result of 4 years of action and reflection by the Interdisciplinary Center for Response to Climate Change and Variability (CIRCVC) of the Interdisciplinary Area, Universidad de la República (Uruguay). It includes concept chapters, reflecting on the experience of interactions between research and public policy on issues related to adaptation to climate change, from the perspective of engineering, agronomy, agrometeorology, the social sciences, humanities and international relations. The final chapter is devoted to a reflection about interdisciplinary work by members of the CIRCVC.
The book (in Spanish) was presented in June, 2016 in Montevideo. Click here to download
Contents
Adapting to climate change and variability: interdisciplinary responses
Importance of science-policy linkages: the case of climate knowledge transfer for decision making
Research directed to contribute to policy making: a case study
What is being done in terms of climate-change-related environmental education in Uruguay? The case of Universidad de la República
International transfer of public policy and epistemic communities: the case of the project on Implementing Pilot Measures for Climate Change Adaptation in Coastal Areas in Uruguay
Climate change and variability mitigation and adaptation measures in national legislation on agricultural activities
Building interdisciplinarity in the area of climate change and variability