The IAI Executive Director meets with the Argentine Minister of Environment and Sustainable Development
7 June 2017, Buenos Aires, Argentina
During his first week as Executive Director of the IAI, Dr. Marcos Regis da Silva made a one-day visit to Buenos Aires, Argentina, where two offices of the Institute are hosted.
One of the meetings was with the Hon. Minister of Environment and Sustainable Development, Rabbi Sergio Bergman, and it addressed enhancement of the cooperation between the IAI and Argentina in the area of scientific research and sustainable development related to global change topics, as well as the communication between the science and policy making sector to better meet some of the present environmental problems and associated social vulnerability. Much of such collaboration and dialogue is ongoing through IAI funded activities and projects. The support of government institutions will be crucial to enhance and expand existing and future outcomes.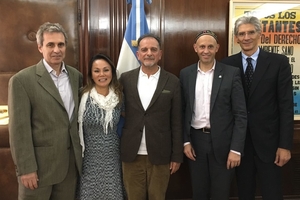 From left to right: Carlos Winograd (advisor to the Minister of Environment), Marcella Ohira (IAI Deputy Executive Director), Jorge Grandi (IAI Science-Policy Counselor), Rabbi Sergio Bergman (Argentina Minister of Environment and Sustainable Development), Marcos Regis da Silva (IAI Executive Director),
Later that day, Dr. Silva met with Lic. Mariano Jordán, National Director of Institutional Cooperation and Integration at the Ministry of Science (MinCyT). Discussions focused on the host agreement that regulates the existence and functioning of the IAI Science-Policy Liaison Directorate at the MinCyT's facilities on Cordoba Ave., in the framework of the Tripartite Governance Agreement between the IAI, Argentina and Brazil.
The Academic Secretary of the Department of Atmospheric and Ocean Sciences of the University of Buenos Aires, Dr. Diego Moreira, welcomed the IAI Executive Director, taking advantage of his visit to the IAI Communications Office, which is hosted by this academic institution since 1999. Initial conversations revolved around the possibility of opening an internship program and a presentation about the IAI by the Executive Director in the near future for students of this house of studies.
Marcella Ohira, Deputy Executive Director, and Jorge Grandi, Science-Policy Counselor, were also part of the IAI delegation.