Urban responses to climate change in Latin America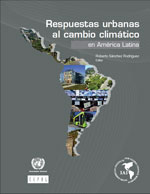 Editor: Roberto Sánchez Rodríguez
This book aims at providing useful reference to local, state and national authorities and planners as well as to a wide range of other urban stakeholders seeking to establish responses to climate change in urban areas of Latin America. The objectives of this publication are to help urban stakeholders to keep in mind the interactions that exist between climate and urban areas – how cities affect climate and how climate affects cities; as well as to help them find ways to include responses to climate variability and change (mitigation, vulnerability reduction and adaptation) in their everyday work using state-of-the-art scientific knowledge.
During the event the main ideas of each chapter were presented: Climate change and urban areas in Latin America; climate information in the planning of urban development and growth; the role of urban areas in the mitigation of greenhouse gas emissions; vulnerability and adaptation to climate change; building capacities for urban responses to climate variability and change and Air in the public agenda of the Autonomous city of Buenos Aires, a case study.
Launched on 10th December 2013 – Mexico City – National Institute of Ecology and Climate Change (INECC)