Climate, Environment, and Health Responders in the Americas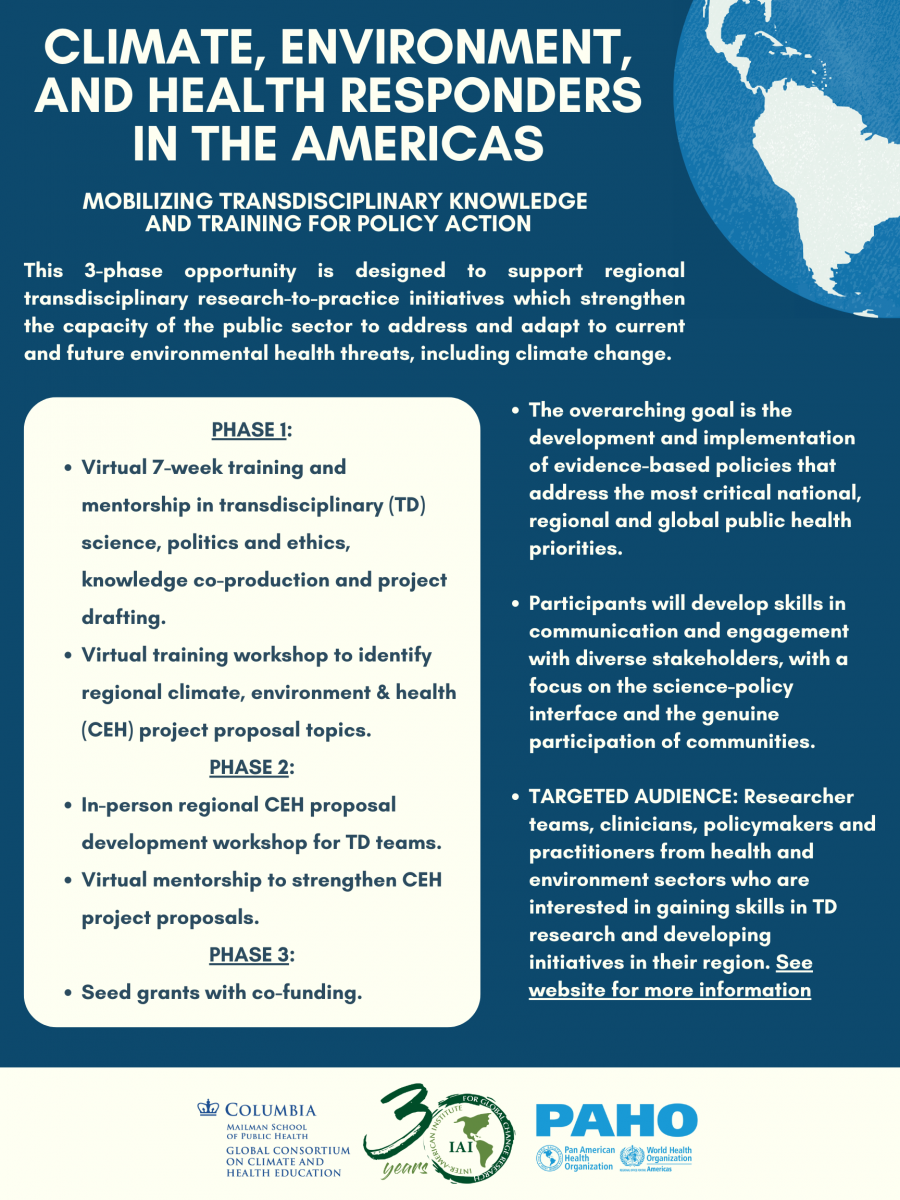 List of Information for Expressions of Interest
Link to form for Expressions of Interest
Call for Climate, Environment and Health Responders in the Americas
Mobilizing transdisciplinary knowledge and training for policy action
June 3, 2022
Introduction
The region of the Americas needs to strengthen the capacity of public sector actors to address and adapt to environmental determinants of health (EDHs), prioritizing populations living in conditions of vulnerability. An integrated and evidence-informed approach within the health sector and in partnership with other key sectors such as climate, environment, and disaster risk management, is essential to addressing and adapting to the challenges of EDHs in the Region. Implementation of solutions must be context-specific, based on the needs and realities of countries, and should encourage coordination, leadership, and communication.
A transdisciplinary (TD) approach expects stakeholders, including decision- and policy-makers, implementers, communities affected by policies, and practitioners, to work together with researchers in collaborative and iterative co-development processes at the interface of science and policy. TD research projects are problem-driven and solution-oriented, integrating knowledge, tools, and ways of thinking from multiple disciplines and actors from the public and private sectors. Stakeholders are included from the initial project framing stage and throughout the project life cycle in an equitable and ethical co-creation process.
Science-policy projects at the nexus of Climate, Environment and Health (CEH) can have broad societal framework and measurable societal benefits; their focus can range from vulnerability and resilience to reduce the risks of natural and anthropogenic hazards, to pollution, food/water security and quality, chronic and emergent diseases related to global change, and adaptation and mitigation actions in different socio-economic and environmental sectors to improve wellbeing (https://www.iai.int/pdf/en/Strategicplan-en.pdf).
Main objective
This training initiative aims to enhance the capacity of professionals and institutions across the Americas to address challenges at the intersection of climate, environment and health through a transdisciplinary approach. Participants will develop skills in communication and engagement with diverse stakeholders, with a focus on the science-policy interface and the genuine participation of communities. The over arching goal is to contribute to the development and implementation of more effective public policies that address the most critical national, regional and global public health priorities.
Phases
Phase 1:
Virtual 7-week training and mentorship in transdisciplinary science, politics and ethics, knowledge co-production and project drafting.
Virtual training workshop to identify regional CEH project proposal topics and develop TD teams.
Phase 2:
In-person regional grant development workshop.
Virtual mentorship to strengthen CEH project proposal development for TD teams.
Phase 3:
Seed grants with co-funding.
Target audience
Decision- and policy-makers, implementers and practitioners, working at the nexus of climate, environment, and health who are interested in gaining skills in the TD approach and development of science-policy projects, such as: government officials at the national and sub-national levels; members and leaders of communities, and civil society; knowledge users, and researchers from key sectors (medicine, epidemiology, public health, environment, climate, weather/meteorological services)
IMPORTANT NOTE: It is expected that participants already have foundational knowledge about the CEH nexus, such as the content presented in the Climate & Health Responders Course Lectures (in Spanish and English) and course materials (in Spanish or English) are available here for free: https://www.publichealth.columbia.edu/research/global-consortium-climate-and-health-education/climate-and-health-responder-course-latin-america).
Phase 1: Virtual 7-week mentorship and training for TD teams
Dates: 20 Sept 2022 – 03 Nov 2022, every Tuesday & Thursday, 11:00 -12:30pm UYT
Skills and Knowledge:
Participants will learn foundational concepts in TD knowledge and the science-policy interface.
Regional case studies will provide examples of best practices and lessons learned.
Participants will gain skills in science communications to mobilize research for action and facilitate science-policy dialogue and collaboration.
Format:
Each week will have two 90-minute sessions hosted on Zoom: (1) Tuesday sessions will focus on the TD approach and skills with regional case studies on CEH; (2) Thursday sessions will focus on science communication skills, led by trainers from Latinoamerica21.
Speakers may present in Spanish and English (interpretation will be available).
Reading material will be shared before sessions, which will be recorded and posted online with the course content.
Participants will be encouraged to network and build TD teams using the Climate & Health Science to Practice Network, a virtual networking platform.
Teams will have the support of TD mentors, who will meet periodically with them to provide guidance as they develop their pre-proposals.
Participants will be expected to develop a TD CEH pre-proposal during Phase 1, which will be presented upon completion of Phase 1 to continue to Phase 2.
Research ideas should be clearly linked to public health sector policies or programs, i.e., the co-creation of climate services for the health sector, strategies to close the science-policy gap (implementation research), improvement of clinical and public health practice/programs related to climate impacts, climate & pollution vulnerability maps/assessments related to chronic or emerging diseases, tools that use climate information for health surveillance and observatories, feasibility studies related to climate-environment-health adaptation strategies, health co-benefits of adaptation and mitigation strategies, early warning systems, and climate risk reduction and national adaptation plans from a public health perspective.
Phase 2: In-person regional grant development workshop
Dates of the in-person workshop: 1 week in Dec 2022
Location: TBD
Format
Prior to the in-person workshop
Selected teams will continue to work to improve their proposals with support from mentors
Teams will engage virtually using the Climate & Health Science to Practice Network
During the in-person workshop
In-person sessions with a hybrid modality and field visits (TBD)
Daily lectures from TD and CEH experts
Mentorship/advisory sessions to get feedback on proposal development
Time for teamwork to develop proposals
Phase 3: Seed grants with Co-funding
Dates: Early 2023
Following completion of Phase 2, teams will be eligible for two streams of seed grant funding:
Funding to support teams to continue to develop a grant submission for a larger funding mechanism (6-month period) such as the Belmont Forum or other.
Funding to conduct a pilot TD CEH study with emphasis on co-creation processes and science-policy engagement, over 12 to 18 months.
Teams that are awarded seed grants will continue to engage with TD mentors over the course of the grant, and be expected to share with other groups the training that they have received.
Application process
Timeline
Expression of Interest deadline: 1 August 2022
Participants are notified if they are selected: 21 August 2022
Phase 1, Virtual Mentorship and Training duration: 20 Sept – 03 Nov 2022
Pre-proposal deadline: 10 Nov 2022
Phase 2, In-person workshop: 05 Dec – 09 Dec 2022
Phase 3, Seed grants awarded: Jan 2022
Phase 1
Two types of Expression of Interest are allowed:

TD team: These include a minimum of 1 stakeholder (government officials at the national and sub-national levels; members and leaders of communities; knowledge users; practitioners), 1 social sciences specialist and 1 natural sciences specialist. Each team should designate a team lead, who will submit the EOI on behalf of the team. Early and mid-career scholars are encouraged to apply as team leads.
Individual applications: early to mid career government officials at the national and sub-national levels interested in networking/being matched with TD teams during the virtual training.

Individuals who are members of groups that have been historically underrepresented in the sciences are encouraged to apply and take key responsibilities in the project, including as team lead. Underrepresented groups include, but are not limited to, women, Indigenous Peoples, persons with disabilities, members of visible minority/racialized groups, and members of LGBTQ+ communities.
Teams must include an equity, diversity, and inclusion (EDI) plan in their proposal to explain how they will mainstream considerations of EDI in the composition of the research team and in the research activities.
Phase 2
Pre-proposals submitted at the end of Phase 1 will be evaluated by a committee and the best proposals will be selected to continue to Phase 2. Individuals from selected teams will be invited to participate in a week-long in-person regional training workshop.
Phase 3
Following completion of Phase 2, TD teams will present a final proposal for seed grant funding. The team lead should have the ability to receive and manage international research funds, including sub-awards to institutions in other countries.
Further information (including the syllabus of Phase I training) can be found here:
IAI - https://www.iai.int/en/post/detail/CEH-responders-in-the-Americas
GCCHE - https://www.publichealth.columbia.edu/research/global-consortium-climate-and-health-education/climate-environment-and-health-responders-americas
Contact e-mail: iai_science@dir.iai.int
Partners: